Juli
Contestant Profile
Series
Splatoon

---

Tribes
██ Brio
██ Electroshock
Placement
4/21
Challenges Won
6
Votes Against
3
Days Lasted
38

---

Tribes
██ Pagi
► Tagong
██ Friendship?
Placement
11/24
Challenges Won
6
Votes Against
10
Days Lasted
27

---

Juli's Statistics

Challenges Won
12
Votes Against
13
Days Lasted
65
Prize $ Earned
$32,000
Julianna 'Juli' Inkson (nicknamed Inkling during Dingo Canyon) is a squid girl originating from Splatoon, and a contestant on Survivor: Dingo Canyon, and Survivor: Last Chances. She placed 4th and 11th respectively.
Survivor: Dingo CanyonEdit
Inkling's Voting History
Episode
Inkling's
Votes
Voted Against
Inkling
1
Brio Tribe Immune
2
Mileena
-
3
Sunset
-
4
Rayman
-
5
Sunset
-
6
No Tribal Council
Brio Tribe Immune
7
Brio Tribe Immune
8
Erron
-
9
Meloetta
-
10
Meloetta
-
11
Nigel
-
12
Zoe
-
Dr. Mario
-
13
Pikachu
-
14
Yuki
-
Dr. Mario
Dr. Mario,
Marge, Zoe

Voted Out, Day 38

Voted For
Sole Survivor

Dr. Mario
Survivor: Last ChancesEdit
Juli's Voting History
Episode
Juli's
Votes
Voted Against
Juli
1
Freddy
-
2
Pagi Tribe Immune
3
Pagi Tribe Immune
4
Nicole
-
5
Pikachu
-
6
Pikachu
Jake, Monita,
Pikachu, Toriel
7
Tagong Tribe Immune
8
Freya
-
9
Lobo
-
10
J'onn
-
11
Dr. Mario
-
12
Toriel
Etna, Jake, Kellam,
S. Tooth, Toriel, Zola

Voted Out, Day 27

Voted For
Sole Survivor

Cyrano
Juli is the youngest member on the Pagi tribe.
When the cast of Dingo Canyon was teased during April Fools Day, Juli was one of three players not listed.
Juli made an appearance as a contestant on Survivor Fan Characters 15. Her sprite can be seen on the right. She was the 7th person voted off the island, placing 14th.
Juli was deemed the third Most Popular Player in Survivor: Dingo Canyon.
Juli was nominated for Best Female Villain in the third TJ Awards Show. She received 0% of the votes.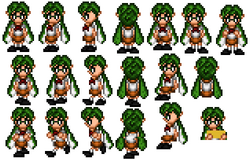 Ad blocker interference detected!
Wikia is a free-to-use site that makes money from advertising. We have a modified experience for viewers using ad blockers

Wikia is not accessible if you've made further modifications. Remove the custom ad blocker rule(s) and the page will load as expected.